Contact & Arrival
Contact Software Engineering at RWTH Aachen, Bernhard Rumpe

Mailing address
Prof. Dr. Bernhard Rumpe
Chair of Software Engineering
Computer Science 3
RWTH Aachen University
Ahornstraße 55
D-52074 Aachen
Office
Sylvia Gunder
Stefanie Fischer
Phone: +49 (241) 80-21301
Fax: +49 (241) 80-22218
Mail: sek@se-rwth.de

Arrival
We are located in the Informatikzentrum (computer science department) at Ahornstraße 55 in 52074 Aachen. Once at the Informatikzentrum, the following location plan can help you to find us. We are in building E1.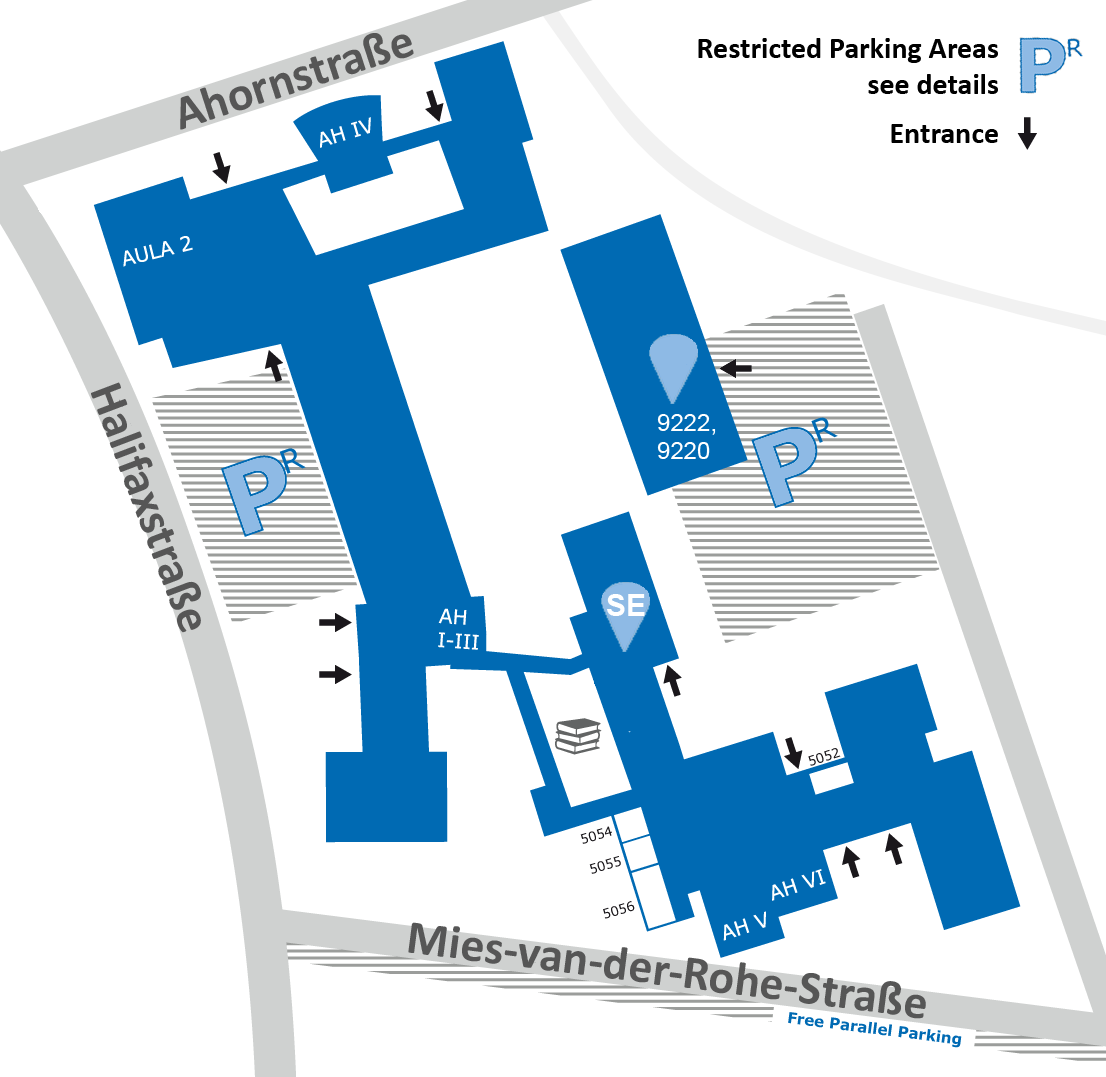 To reach the Informatikzentrum you have to approach Aachen by plane, train, or car.
Arriving by Plane
Take a flight to Cologne, Düsseldorf or Maastricht. Then either
take a taxi (from Cologne or Düsseldorf approx. 100 km and approx. 120€; from Maastricht approx. 35 km) to the Informatikzentrum at Ahornstraße 55, 52074 Aachen; or

take a train from Cologne central station (Köln Hbf) or from Düsseldorf central station (Düsseldorf Hbf), to Aachen central station. See further instructions below.
Arriving by Train
From the Aachen central station, either
take a taxi (telephone numbers; approx. 8€) to the Informatikzentrum at Ahornstraße 55, 52074 Aachen; or

take the suburban train RB 33 (in the direction of Duisburg) for two stations to Aachen West. And from there take a bus of lines 33 or 73 for three stations to Halifaxstrasse; or

take a bus of line 13B to Turmstrasse, and from there a bus of line 12 to Halifaxstrasse; or

take a bus of line 13A to Ponttor, and from there a bus of line 33 to Halifaxstrasse.
Concrete bus connections can be found on the homepage of the Aachener Verkehrsverbund (linked transport system Aachen; currently in German only).
Arriving by Car
At the intersection Aachener Kreuz follow the autobahn A4 towards Heerlen.
Exit for Aachen-Laurensberg, turn right at the traffic lights towards Aachen.
Follow the expressway, change direction towards RWTH-Klinikum (Aachen's university clinic)
Take the third exit to the Halifaxstrasse (RWTH-Hörn)
Turn left the second to the Mies-v.d.-Rohe Straße
The above Google map may help plan your travel.
(Ridiculous RWTH) Parking restriction: If you plan to drive to SE by car, you can …

use the big and at most times empty parking area east of the Computer Science Centre (entrance at Mies-van-der-Rohe-Strasse). But, you need an RWTH parking permit, which you can get from the SE office. Please, give us a note before. Otherwise, parking enforcement might grab your car without prior notice. Really, no joke!
alternatively: use the public parking space along the nearby Mies-van-der-Rohe-Straße or along Halifaxstrasse, where normaly space is available.

Accommodation
Aachen provides several Hotels within the historic downtown or close to the Informatikzentrum, where we are located.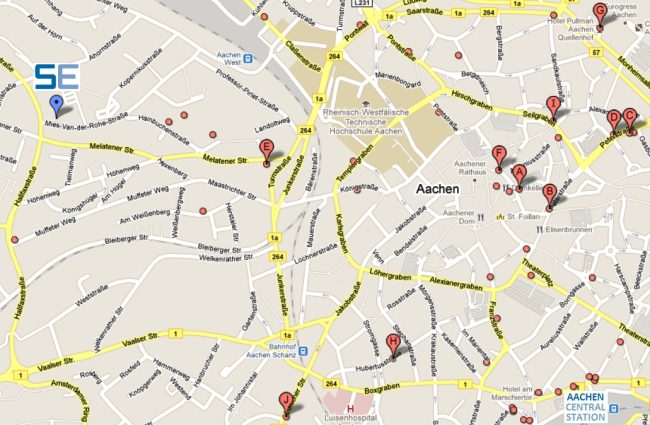 Regarding your accomodation needs, you may use following search websites:
Prices for a double room in Aachen range from € 80 to € 170 depending on season and room as usual (Special times: CHIO: ~End June-early July, Karlspreis ~Mid May, and Carneval ~February).
Last updated: December 06, 2023 17:02:02